Mobile App Development Workbook
You have been dreaming about launching a mobile app to solve the problems you are facing in your business, or you want to address the issues of people with the help of a mobile app in a meaningful, efficient, consistent and profitable way.
This mobile app development
workbook is for you.
There are over 3.3 million apps on the Google Play Store and the Apple iTunes Store. Using the mobile app, you can play the game, connect with your friends and loved ones, buy things online, communicate with people, watch videos, listen to music, manage your business, manage your health, and do numerous other things. The stats below will further invoke your excitement if you have been thinking of launching a mobile app.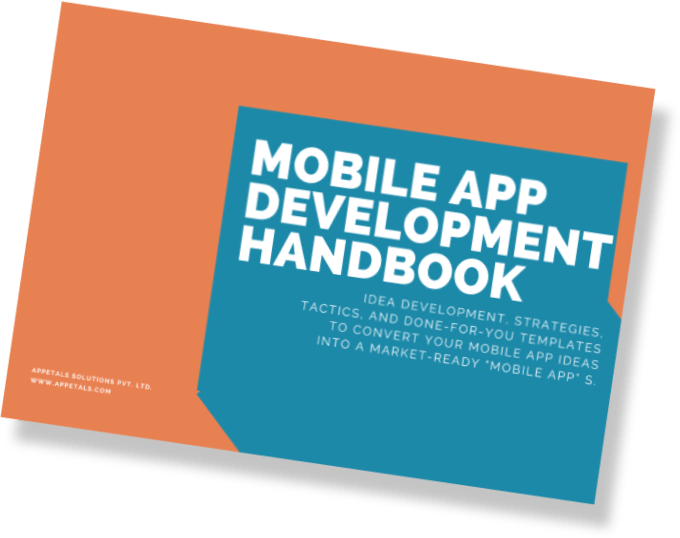 Mobile apps are estimated to generate $189 billion in revenue by 2020.
The Apple App Store has 2.2 million apps available for download, and there are 2.8 million apps available for download on the Google Play Store.
21% of Millennials open an app 50+ times per day.
49% of people open an app 11+ times each day.
57% of all digital media usage comes from mobile apps.
The average smartphone owner uses 30 apps each month.
But launching yet another mobile app in already overcrowded space is tiring. There are millions of apps out there that have been discontinued or exist stale unable to attract the user traction. Many of them failed because;
Failure to solve the real-world problem for people
Inability to understand the target customer and their real problems
Unable to choose a mobile app platform wisely
Poor user experience delivering too many or too few features
Improper testing
Not able to market the mobile app adequately
Poorly executed mobile app launch
Not able to track the mobile app progress, customer feedback and update the app based on user feedback
Introducing Mobile App Development Workbook
To make your mobile app successful one, must avoid the mistakes that come along the way and maximise your chances of success.
This mobile app development workbook will guide you with the ideation, planning, and launch strategy to make your mobile app idea to become a successful one.
With the help of this guided workbook, you can easily assess the opportunities, the associated risks, and launch a market-ready mobile app that inspires confidence at all stages of your mobile app launch journey.
Request for Mobile App Development Workbook for FREE
It is not just an ordinary Mobile App Development Workbook.
I have built and launched close to 100 mobile apps in the past 15 years, including some of the path-breaking ones:
India's first Over The Top (OTT) app for Zee Entertainment Enterprises Limited in the year 2006 under the brand name ISEE TV which over the year rebranded and relaunched as ZEE5.
World's first car integrated mobile TV app using 3G, known as an AvaniTV.
Numerous successful mobile app projects for global companies.
While doing all of these projects, we found that lack of idea discovery, project scoping, planning, and lack of business model are some of the root causes of mobile app project failure.
WhileOver the years, we have perfected the system to achieve an over 90% success rate in all the projects we do. We thought of putting up our proven process of mobile app development in the form of this workbook.
Here is what you will get inside the workbook:
Step by step process to help you develop your mobile app idea using proven tools, methods, and models.
Define and identify your real customers.
Understand the nuances of choosing the right technology and app launch platforms.
Business model to identify customer segment, value proposition, revenue, cost, and key resources you will need to launch your dream mobile app development project.
Build a marketing plan to launch and grow your mobile app download, customer acquisition, and growth.
Ask for Mobile App Development Workbook Now
The mobile app development workbook will guide your app launch using the 5-step process:
The guide is for helping entrepreneurs, executives, product managers, or anyone else who wants to build and launch a mobile app. building and launching mobile apps. The guide will provide proven strategies, tactics, and templates which you can use for planning, ideation, business model development, marketing, product development, QA, and launch.
The goal is to combine a guided method for the mobile app development project to guide your path for a successful launch.
You will also find a launch checklist that you can use to define your idea to the mobile app launch path, identify resources, and plan the events necessary for your mobile app development project.
Step 1: Make Your Mobile App Idea Great

Step 2: The Business Model of Your Mobile App

Step 3: Make a Prototype and Validate

Step 4: Developing the Mobile App

Step 5: Launch Your Mobile App
Get Started by Downloading the Mobile App Development Workbook
Android and iOS App Developers You Can Trust
Leverage our 14 years of expertise in building unique, user-friendly, feature-rich, and process-based mobile apps to connect with your customers and solve everyday business problems.
CONTACT US